My Blog
Posts for tag: sedation dentistry
By Okabe Dental Arts
February 26, 2014
Let us Help You Overcome Dental Fear
People who avoid the dentist have a higher risk of gum disease and tooth loss. More troubling is the fact that research suggests that neglecting dental care can lead to more serious health problems, including heart disease, stroke and diabetes. Protect your mouth and
overcome your dental anxieties
with help from our dentist in Honolulu, Dr. Jonathan Okabe.
Maintain open Communication with Dr. Okabe
Studies have proven that the most important factor in overcoming dental anxiety is good dentist-patient communication. It is proven that communication is a crucial factor for relieving dental anxiety and phobia. Openly express your concerns with your dentist, as this will allow them to adapt the treatment to your personal needs.
It is natural for people to feel some level of anxiety when visiting a dentist, but when your anxiety is preventing access to proper care, it is essential that you speak with your dentist to help overcome your anxiety. Establishing trust and keeping patients informed throughout a visit to the dentist helps to calm dental fears in Honolulu area patients.
Other Approaches for Addressing Your Dental Fears
There are several psychological and behavioral approaches for addressing your dental fear in Honolulu, which include:
Realize that others share your fears and are ready to help you overcome them.
Identify your fears and educate yourself about realistic and unrealistic expectations, possible treatment options and what they involve.
Choose a dental team with the technology, tools and skills that make you feel safe and well cared for.
Before your dental appointment, practice relaxation techniques such as deep breathing.
Establishing trust and keeping you informed and in control throughout a visit to our office helps immensely in calming patients in Honolulu with dental fear. Another option is to even use hand signals to communicate with your dentist throughout a procedure, which will make you feel that you are more in charge of your anxieties.
Dr. Jonathan Okabe, our dentist in Honolulu, is always available and willing to help in the reduction of your dental anxieties. With proper communication, Dr. Okabe can come to an effective solution to bringing your anxieties down.
By Okabe Dental Arts
December 14, 2012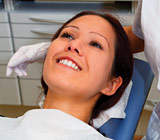 When it comes to patient comfort, one of the most important developments of the 21st century has been sedation dentistry, which enables you to relax in both mind and body allowing you to focus on feeling peaceful rather than anxious. And the prescription medications we use are some of the safest on the "therapeutic index" (the scale pharmacists and health professionals use to measure the safety of medications.) However, it is critical that we are aware of any medications you are already taking and your medical health and history, so let us know all about you so that we can avoid adverse (negative) reactions. Please note that we will take a full history to gain this information prior to any treatment or sedation — our utmost concern is your safety. During this time, it is vital that you are honest and feel comfortable sharing your responses to our questions. It's also our way of getting to know you and the first stage in relieving your anxiety. We will need to know all about:
All medical conditions for which you are currently being treated.
All prescription medications you are taking.
Over-the-counter (OTC) medications, remedies, or vitamins and/or supplements you are taking. This even includes aspirin, St. John's Wort, and Kava Kava. (Why? If taken daily for good heart health, aspirin thins your blood and thus may interfere with blood coagulation. And St. John's Wort and Kava Kava may be beneficial in helping relieve depression, but they can negatively impact how oral sedation medications work.)
Foods and drinks you consume, such as alcohol and even grapefruit (juice or the fruit), can negatively impact how your body responds to both your treatment and sedation medications.
And lastly, we need to know if you are a tobacco user — especially if you are a smoker. In addition to increasing your risks for oral and other cancers, tobacco can negatively influence the effectiveness of sedation medications.
To learn more about this topic, read the article "Oral Sedation Dentistry." Or you can contact us today to discuss your questions or to schedule an appointment.
By Okabe Dental Arts
March 03, 2012
Oral sedation can be an ideal and safe solution for someone who suffers from fear and anxiety regarding dental appointments — the very reason we offer it to our patients. However, there are some things you need to do prior to and following your treatment for optimal oral sedation benefits and treatment results.
Being completely honest about your health history and any medication you are taking is a critical aspect, as it lets us know that oral sedation medication is safe and will work for you. We also ask you to let us know about any over-the-counter (OTC) medications, remedies, or vitamins and/or supplements you are taking. The reason this is so vital is that some can negatively impact your treatment, recovery, and the effectiveness of the oral sedation medications.
You should not eat or drink anything six hours prior to your appointment unless we instruct you otherwise.
You should make arrangements to have someone drive you to and from your appointment, as it may not be safe for you to drive or operate any heavy machinery until the effects of oral sedation have worn off. It is important to note that this will vary depending on what medication is used, so do not assume your reaction/response will always be the same.
Drink plenty of fluids (especially water) to stay hydrated after your appointment.
To learn more ways you can prepare, read the article "Oral Sedation Dentistry." Or you can contact us today to discuss your questions or to schedule an appointment.